I swear I'm not dead. School got in the way but hey, new foundation! (and calligraphy pens squee!)
After months of using The Saem's Perfect Cover concealer (the best priced concealer I swear) mixed in moisturizer for foundation for the past half year, I decided to return to my quest of finding my HG foundation!
This foundation is the new, moisturizing version of Missha's Super Light Foundation geared toward dry skin. There are a couple of improvements in this new iteration, such as a dropper for the foundation instead of a stick like the non oil foundation version, as well as the inclusion of more oils like camellia oil and avocado oil. There is also the inclusion of "light scattering particles" to get a radiant finish. All this to produce a super light and spreadable foundation, all at a reasonable price point. Just remember to shake it before use!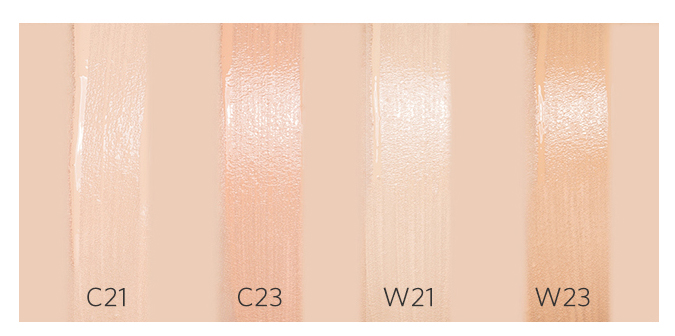 It's available in 4 shades, 2 shades for cooler toned (pink) skin, and 2 shades for warm toned (yellow) skin. I choose to get the W23 version, as I'm a very warm toned person.
Well, what kind of oil is in an oil foundation? Taking a look at the ingredients, there's a bevy of them in this product:
Camellia Sinensis Seed Oil and Camellia Oleifera Oil (Tea seed oil / Tsubaki oil)
A famous, enriching oil for the skin. This is a common ingredient in asian cosmetics, this oil can be used from head to toe. It's ability to be absorbed quickly into the skin can contribute to the foundation's lightness and moisturizing capability.
Panax Ginseng Seed Oil
A sort of hanbang (traditional medicine) like ingredient. Ginseng is widely used in Southeast asian cultures as a high-class traditional medicine ingredient that fights against aging as an antioxidant. Ginseng is very prevalent in Korea and is a famous export for the country.
Hippophae Rhamnoides Oil (Sea buckthorn Oil)
A rich oil that also allegedly helps with anti-aging and wound healing found in the berries on the sea buckthorn scrub, found in Europe and Asia.
Avocado Oil
An easily absorbed moisturizing oil with anti-inflammatory agents found in the peel of the avocado fruit.
I'm not exactly sure if all these oils will nourish your skin as well as they claim mainly because these oils are listed more or less in the middle of the ingredients list. Heck niacinamide, an ingredient that helps inhibit melanin production in the skin (lightening), is put higher on the list.
The liquid foundation is definitely designed for a premium feel. The matte black packaging and heavy glass bottle feels good and sturdy in the hand. The dropper included helps immensely in putting out hygienic, accurate drops for my bleary early morning makeup routine. It looks really pretty standing by itself on my vanity *w*
This shiny surface made it so hard to photograph ><
front
back
Droppers YASSSS
large pore area (cheek) and nose
Here I have applied about 3 drops of product onto my bare, just washed face, no cream, no primer. I also took these pictures indoors with natural lighting.
In terms of cover, the Super Light Oil Foundation has a medium coverage. It covers redness and light freckles well and has a very natural finish - just the way I like it. It does a pretty good job of covering my larger pores, and it didn't settle into fine lines. There isn't any super obvious sparkle or glitter in the foundation at all (despite having "diamond powder" listed in the ingredients), and the finish is somewhat of a matte glow, not dewy but more like baby skin.
After application, my face didn't feel sticky or heavy at all, proving the lightness of the foundation. I found the colour of the foundation to be just a bit more pink than I would have liked, even though this was the shade designated for warm-toned skin, as my skin is quite yellow but the overall toning looked natural on my face.
Oh I wish I had flawless skin like that
This foundation is certainly light and feels very breathable and easy to wear. The coverage was good but I wish the shade was just a bit more yellow.
Price: ✭✭✭✭✩
At ~$23 CAD is reasonably priced, especially for something that looks so premium.
Application: ✭✭✭✩✩
I used a
rubycell (bb cushion) puff to apply the product to my skin. Doing so helped the layers of foundation to be as thin as possible and spread well. I would recommend to use a cushion puff, sponge, or brush for even application.
Rebuy?
Undecided
, I expect this bottle to last me for 4-5 months, I will probably re-buy if I can't find a better match for my skin by then.
I brought my Missha Signature Ultra Light Oil Foundation from a Missha standalone store at Pacific Mall. You can also get it from
Jolse
for approx $16 USD (~$23 CAD gg exchange rate) with free shipping.
What product should I review next? Let me know in the comments!